200 Hrs Ashtanga Vinyasa And Hatha Yoga Teacher Training In Pokhara, Nepal

Pokhara is one of the most picturesque and pristine places in the Himalayas that offers spectacular views of the snow capped holy Himalaya mountains. Located next to Phewa Lake, Pokhara offers ideal settings for a teacher training immersion. Clean crisp air, calm waters and tall mountains make a perfect background for taking a deep dive into our yoga program. Here you will have the opportunity to transform your practice and develop your teaching skills. Salamba Yoga welcomes the aspiring yogis to experience and embrace the beauty and stillness Nepal has to offer.
Pokhara being the second largest and perhaps the most beautiful city in Nepal, offers spectacular views of the Dhaulagiri and Annapurna mountain ranges, 2 of the world's highest mountain ranges. Trekkers from across the world visit Pokhara to hike these ranges which are within 24 to 56 kms of Pokhara Valley.
Know More
Phewa Lake is the heart and soul of Pokhara and the tourist hub in Pokhara is located around the lake. A number of restaurants are located near the lake offering a variety of options for vegetarians, vegans and gluten-free cuisines. Streets are lined up with local handmade products shops, trekking gear showrooms and lots of other facilities making Pokhara one of the easiest cities to stay in. From the lake side one can enjoy peaceful and beautiful views of mighty snow capped mountains, and visit the world peace pagoda, nearby caves and waterfalls.
In just a 30 minutes drive from the main city, you can see the stunning Matepani Gumba Tibetan monastery and other attractions including ancient Hindu temples and the gorgeous Begnas lake.
Experience a bird's eye view of lovely Pokhara by booking a paragliding adventure or ultra flight.
Salamba Yoga Teacher Training in Nepal
Salamba yoga offers 200 hr certifications accredited by Yoga Alliance International, allowing you to register as a RYT 200 upon successful completion of our Yoga Teacher Training program.
Course description and content:
The 200hrs multistyle yoga teachers training in Nepal is a very engaging and informative program. The course will be focused on developing a firsthand knowledge and understanding of yoga philosophy and its epistemology. Equal emphasis is given to the theoretical and practical aspects of yoga discipline. Hatha yoga is practiced everyday along with Vinyasa and Ashtanga Primary Series. Applied anatomy and interactive art of teaching makes one absorb the information in a fun-filled way.
Main features of the Yttc Nepal course are:
Practice of Hatha, Ashtanga Primary Series and Vinyasa yoga to give your body and mind a clear understanding of isometric and isotonic impact of yoga asanas
Alignment and adjustment tutorials to better understand the variety of body types and their challenges
Exercises to understand the relation between Ashtanga, Hatha and Vinyasa dynamics to enhance the quality of your practice
Art of teaching yoga discussions and activities to understand basics of imparting yoga asana cues. Organizing set up of a yoga class and teacher student dynamics are the topics which are also discussed in detail
Yoga philosophy and its epistemology to have a sound understanding of yoga as a system of perfection of mind rather than limiting it to a system of physical exercise
Meditation techniques namely antarmouna, kaya sthiryam, chidakasha dharna, ajapa japa and sakshi sadhana are an intrinsic part of our yoga teacher training in Nepal program
Yogic kriyas and pranayama practices to cleanse and detox the body and the mind
Group activities to build confidence in the usage of yogic terminologies
Highlights of Salamba Yoga Teacher Training Course Nepal
Salamba Yoga TTC at New Solitary Lodge, Pokhara
Salamba yoga conducts 200 hrs yoga teacher trainings at the new Solitary Lodge which has the following facilities:
Garden
Rooms with attached washrooms
Wi-Fi
Kitchen
Dining Area
Ac and Non Ac rooms
Special menu upon request
$1400 USD  $1200 USD / 1100 Euros
Yoga teacher training dates for Pokhara, Nepal
1 Mar 2020 – 24 Mar 2020
1 Apr 2020 – 24 Apr 2020
1 May 2020 – 24 May 2020
1 Sep 2020 – 24 Sep 2020
1 Oct 2020 – 24 Oct 2020
1 Nov 2020 – 24 Nov 2020
Fees for the Course
Single Occupancy : $1200 USD / 1100 Euros
Double Occupancy : $1100 USD/ 1000 Euros
Early Bird Discount : Book 1 month in
Advance to get $100 OFF !
Please Note : Only breakfast is provided on the first two Saturdays of the course. The 3rd week of the course does not include meals on the weekend. Yoga students may still order their meal at the kitchen on their own if they wish to.
Facilities Provided in our Yoga teacher training course in Nepal: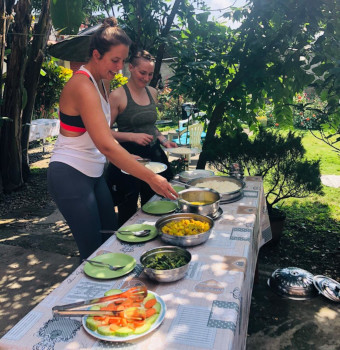 Yogic cleansing kit
3 yogic meals daily, served Monday-Saturday, which carefully planned to suit your daily nutritional requirement. Gluten free and vegan options are also available.
Well ventilated quality rooms with an attached washroom, hot water availability and wifi connectivity
A well planned excursion to some of the most interesting locations in and around Pokhara 
Pick up from Pokhara airport and bus station
Our team will help you plan post training activities in Pokhara in case you are thinking of doing some treks and home stays.

Laura Santamaria
I had a great experience at Salamba Yoga School! The teachers are great and very professional and i have learned a lot!

Þorgerður Ólafsdóttir
I had the most amazing experience at Salamba Yoga in Pokhara. The teachers, the atmosphere, I would do it all over again! I have so much deeper understanding of yoga, not only by practicing the positions, but also thanks to the philosophy and anatomy classes. Can't recommend it enough!

Ellen Munroe
Incredible teachers, experience and location. The instructors at Salamba Yoga were some of the most knowledgeable yoga practitioners I have come across. The course was multifaceted, dynamic and provided something for everyone from newbies to the most seasoned yogis. The teachers were aware that although we were learning yoga in the East, we would be teaching it in the West, and thus directed the course such that we would be able to teach students from a variety of backgrounds. I learned so much at this course, and will definitely come back to Salamba Yoga for more teacher training. Plus, their location in Nepal is beautiful. Salamba Yoga is extremely helpful outside of the yoga practice as well, very accommodating and helpful with travel, trekking and any other need you have. Thank you!

Betsy Bockmon
My 200 hour RYT at Salamba Yoga was incredible. The instructor's approach to yoga is unlike any other I have encountered. Their approach truly embraces every individual's unique experience on their mats and taught us, as teachers, how to cultivate awareness of those unique needs within our bodies and other student's. The training program opened my mind to new, valuable information and perspectives, from anatomy and physiology to yoga philosophy and mindfulness. In the process of the training, my personal practice and life 'off the mat' was also transformed. I highly recommend anything Salamba Yoga offers – from teacher training, workshops and online private classes. Salamba Yoga embodies educators who have passion for what they do and is contagious to those they teach.

Gudny Vilhjalmsdottir
My yoga experience with Salamba Yoga was beyond Amazing, I learned so much from the teachers and the environment we were in and I made friends for life. We stayed at New Solitary lodge which is owned by this amazing Nepali family that took very good care of us, cooked for us and told us stories about the local culture.
I loved the classes, I sure left that place in a better physical ( and mental) shape than I came in. The yoga was challenging and I love how the teachers where so passionate about what they where doing,
Would recommend it for everyone who is seeking more knowledge about yoga and I know that I will definitely come back there 🙂
Location of Salamba Yoga at Solitary Lodge, Pokhara, Nepal