Virabhadra : Warrior – Asana : Posture
Virabhadra : A warrior considered as a manifestation of lord Shiva. Virabhadrasana is one of the most profound and important postures. It is not just a lunge; it incorporates a lot of rotational work around the ankle area, SI joint and hip area. Become aware of the rotational movement of the spine when in this posture.
Instructions:
Step feet 4 feet apart and turn the right foot out 90 degrees
Left foot should move at least 45 degrees in and the left foot's outer heel should be firmly pressed
Keep the feet in heel to heel alignment
Left foot also be kept facing the front. The left heel can lift up in case of tight calf muscles
Bring your left hip in line with front hip by rotating the left back thigh inside out
Keep pressing on the back foot's heel as you move your front leg into the lunge
Spread the frontal base of the right foot nicely and press the heel to lift the shinbone up and back into the leg
Tuck the tail bone in and lift the spine by lifting through the side ribs
Move your arms out to the sides and externally rotate the arms so that the palms face up. Now lift the arms up in Urdhva Hastasana
Press the base of the wrists firmly against each other and rotate your arms externally
Maintain a straight spine and when breathing, relax the facial muscles
Pay attention to the movement of the trunk. It should face to the front; if the trunk moves to the left rotate it back to the right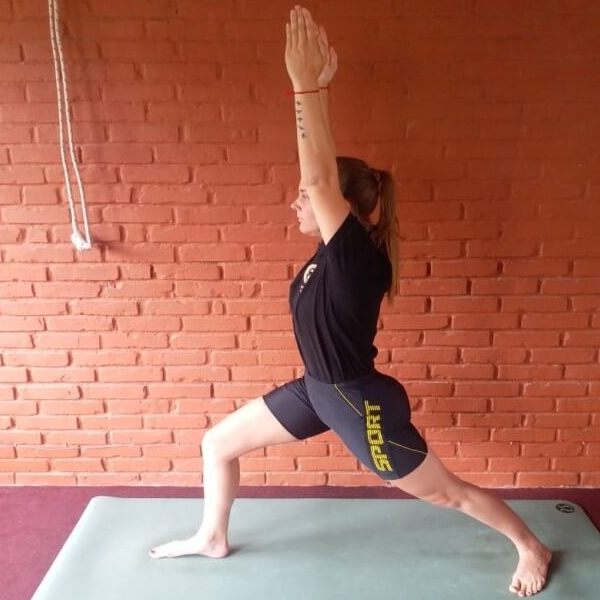 Variations :
Feet placement may be changed according to the mobility of the ankle and length of back calf muscle
Keep a block underneath the heel of the back foot in case of a weak back leg and shortened calf muscle
Keep a belt on the wrist to keep strong arms
Keep a belt on the back thigh to rotate the back hip
Keep the back heel on a wall to give strength to the back leg and to deepen the lunge
Reach the arms towards the wall to deepen the back bend
According to guru Ji B.K.S Iyengar Vira 1 teaches us the entry to a backbend. The action of the scapulae must be learned to experience this.
Benefits:
Makes the back ankle mobile and strong
Strengthens the legs
Makes the paraspinal muscles strong and supple
Provides good mobility in the SI joint area
Opens up the thoracic spine
Gives correct action for backward bends
Interested in joining our Yoga Teacher Training?
We have limited openings, so enroll now