In today's world, Yoga has become a global phenomenon. The ancient Indian discipline of Yoga is followed in myriad forms by millions of people worldwide for physical, mental and spiritual well-being. It is a discipline that unites body, mind and soul. At one level, it is a great way to attain physical flexibility and strength, and at another level, it is a path towards spiritual enlightenment.
YOGA- A Global Phenomenon !
United Nations declaring 21 June as The International Day of Yoga is an effort to celebrate Yoga's success and its far-reaching benefits at individual and community level. Since Yoga has gained a lot of popularity all across the world, people are searching for certified yoga teachers who can help them in taking care of physical and mental health. In today's highly competitive and stressful world, Yoga teachers are high in demand.
Salamba Yoga 200-Hour Yoga TTC in Nepal – A Journey of Self-Transformation
So, are you considering becoming a certified Yoga teacher? Whether you are a beginner or intermediate yoga practitioner- Salamba Yoga welcome you to its comprehensive 200 hours Yoga Teacher Training Program accredited by Yoga Alliance International. We teach yoga as a philosophy, a discipline and an experience – to help you become proficient in every aspect of it. Our yoga practice program focuses on building a strong foundation by including complete package of Asanas (body postures), Pranayamas (breathing techniques), Kriyas– meditation techniques and the ancient yogic philosophy.
Salamba Yoga, with its unique 200 hours Yoga Teacher Training Program in Nepal is committed to give you true yogic experience in the enchanting land and gorgeous mountain ranges of the Himalayan state of Nepal. We are proud of our highly dedicated and seasoned trainers (Yogis) who provide individual care and support in your journey of becoming a yoga teacher. They have the experience and skills to inculcate the yogic discipline and ensure learners attain overall development during the tenure of the entire program.
Our 200 hours yoga teacher training program in Nepal is a systematic and holistic training which offers spiritual growth to the aspiring yogis. We have always been very specific about choosing the perfect destination for our unique and transformative Yoga Teacher Training Programs. This is the reason behind choosing Pokhara, which is an ideal place for imparting 200 Hours Yoga TTC program in the serene and exquisitely beautiful Himalayan state of Nepal.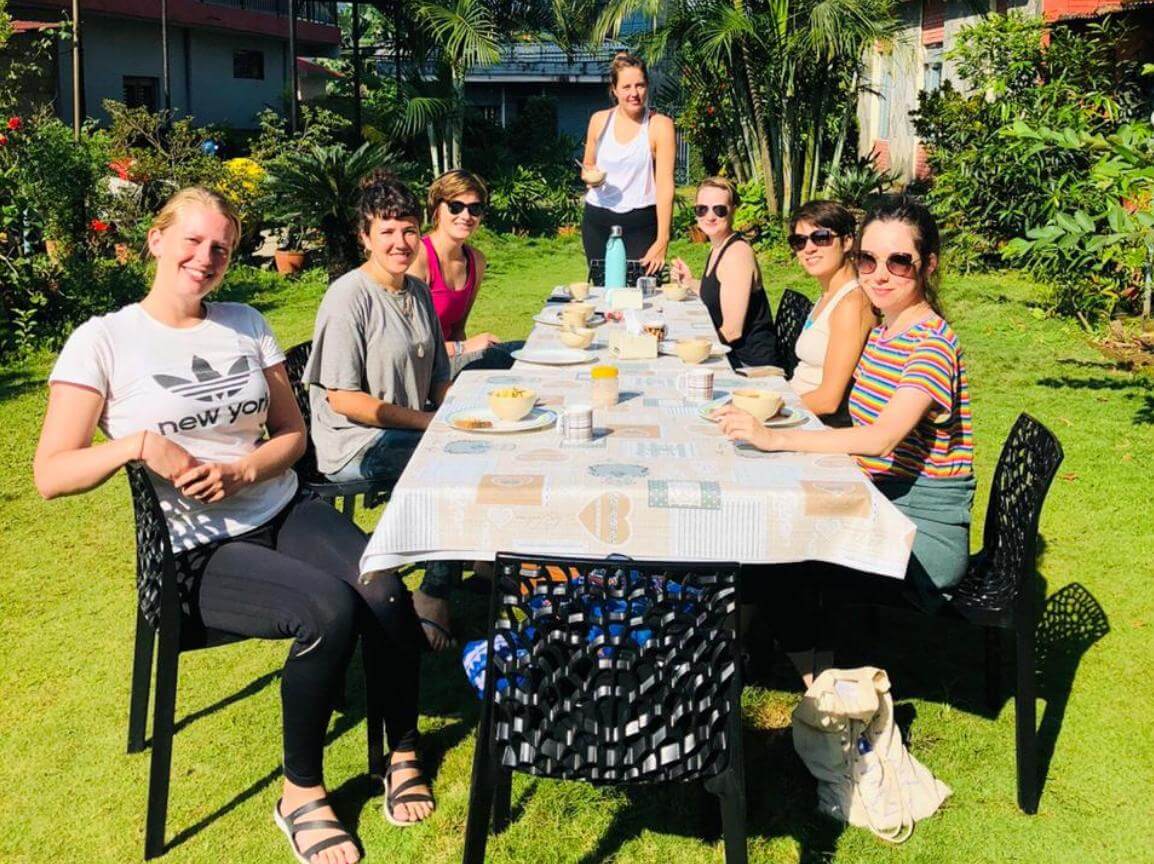 Pokhara Nepal- A Magical Place for True Yogic Experience
Nestled on the eastern shore of Phewa lake, Pokhara has become the focal point of all yogic actions. This heavenly place is home to world-class museums, Buddhist monasteries and incredible mountain views. Snow-capped pinnacles of Annapurna range combined with the soothing stillness of Phewa lake revitalise your spirits and instill positive attitude.
A Blissful & Beautiful Accomodation
Salamba yoga conducts 200 hrs yoga TTC at New Solitary Lodge, Pokhara which offers a host of facilities. We understand that surroundings play a vital role when trying to achieve physical and mental fitness. With quiet, well-ventilated and pleasing ambience, our rooms also reflect the serenity of the place. Our accommodation has spacious AC/non-AC rooms, Wi-Fi, attached washrooms, kitchen, garden and special menu request facilities. Our well planned fresh vegetarian meals help you meet your daily nutritional requirements, keeping you energized and focused throughout the day.
Book NOW! We offer Affordable Yoga Courses in Nepal
Our competitively priced yoga TTC at Pokhara, Nepal program starts from 1st Sept 2019 and will be conducted every month. For details, you can visit our website page: https://www.salambayoga.org/200-hour-yoga-teacher-training-nepal-pokhara and plan your course accordingly. You can avail early bird discount as much as $100, if you book two months in advance.
Revitalize your Spirit with 7 Days Yoga Retreat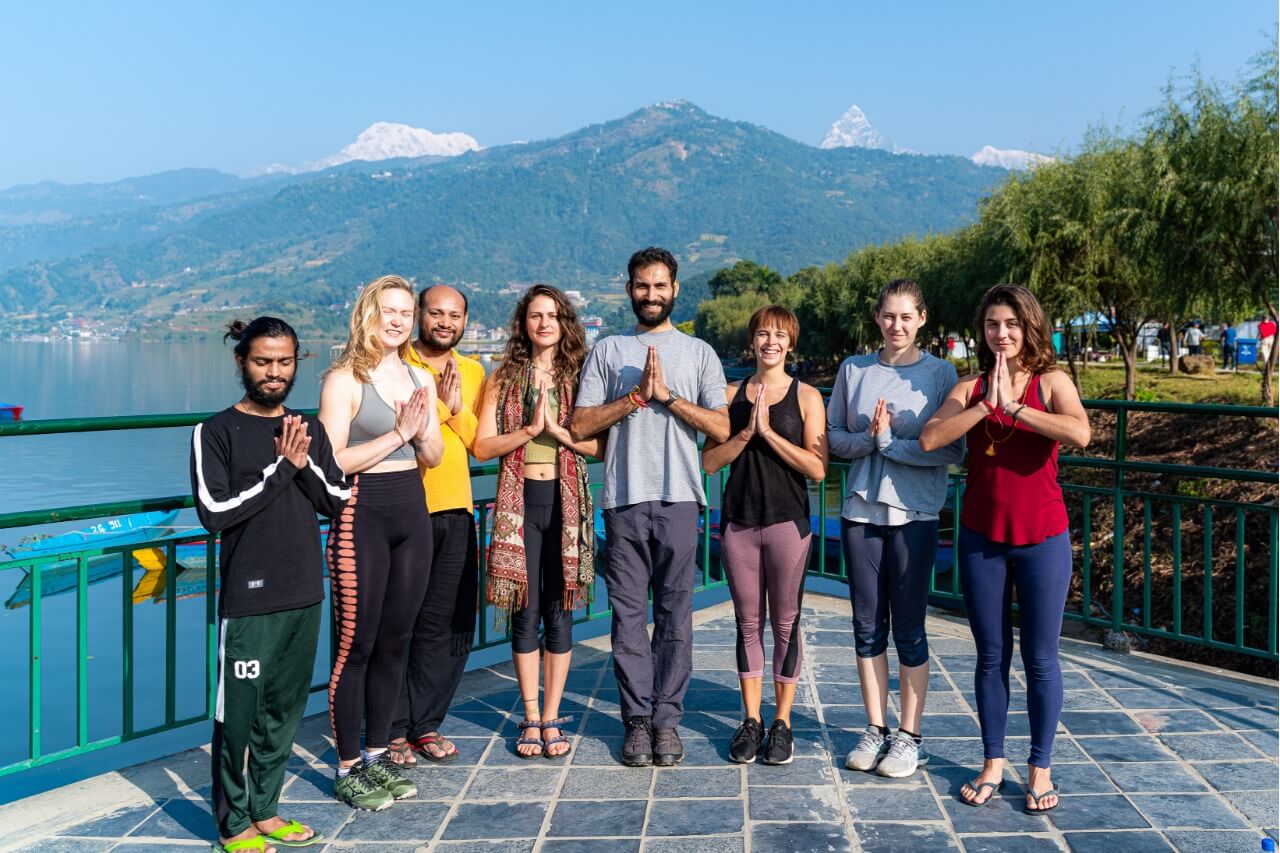 Our 7 Days Yoga Retreat in Nepal is a great way to learn basics of Yoga and indulge in natural beauty of this spectacular Himalayan state. Pranayama, Hatha Yoga and meditation are integral part of the program, building a solid foundation for physical fitness and mental calmness. We offer a host of accommodation facilities including shared room or single occupancy. To know more about our 7 days Yoga retreat program, please visit our webpage: https://www.salambayoga.org/yoga-retreat-nepal Register now and be a part of this refreshing and nourishing experience.
Salamba Yoga – A Perfect Place for Yoga & Inner Well-Being !
At Salamba Yoga, we teach yoga in a joyful and thorough manner, focusing on exercise, strength, flexibility and breathing. You will experience a positive change within yourself during the training and your self-awareness will expand in many directions. You will find yourself fully equipped to go into the world, share and help others in living a stress-free life. So, if you are a yoga enthusiast envisioning a bright future and living your passion, Salamba yoga is the place to be. Our Yoga teacher training program in Pokhara, Nepal will serve as a perfect platform to learn as well as teach yoga in all its forms. Come and dive deep into the sacred world of Yoga!